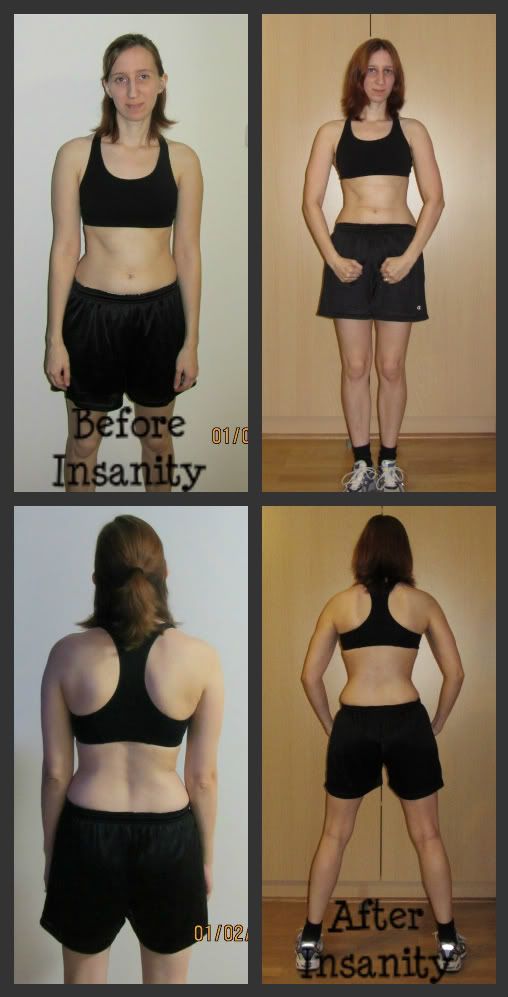 When I started this round of Insanity I wasn't sure what to expect in physical results by the time I was done. I wasn't trying or planning to lose weight (and in fact wouldn't have minded gaining a couple pounds), but I did want to lose my love handles, or at least most of them, and get rid of the belly flab so I could work more on toning back up with P90X. While it's not too easy to see in the pictures, I got muscle tone in my calves and quads as well as my shoulders, and a little in my biceps, and I lost a few inches.
My Ending Statistics:
Weight: 118
Pants: 3/4
Body Fat: 17.8%
Chest: 32 inches
Waist: 25 inches at narrowest, 27 inches at navel
Hips: 35 inches
Leg (thigh):20 inches
Arm (bicep):10 inches
How They Compare to the Starting Statistics:
I was actually weighed a couple weeks prior to ending Insanity and don't own a scale so the weight could have fluctuated, but like I said my intent wasn't to lose weight, and I'll likely gain back those 2 pounds I lost and thensome in muscle with P90X.
My pants size at the start was 5-7 depending on brand and that's still what I intend to wear most of the time. However, I had a pair of 3/4 jeans I'd planned to get rid of because I couldn't wear them comfortably before Insanity. I put them on after Insanity while my others were in the wash and was able to wear them all day without discomfort, so I was pretty happy about that.
The Body Fat % measurement just proves that my husband was correct that the calculators aren't necessarily an accurate reflection. It doesn't seem like I could have lost the inches of ft and gained the muscle I did but increase from 16.1% to 17.8% body fat although both are low percentages that fall in the range for athletic females.
I didn't plan to lose inches on my chest, but I guess it's not a bad thing since that was circumference wise and therefore probably from fat anyhow. My waist at narrowest was 29 to start, so I lost 4 inches there. At navel it was 30, so I lost 3 inches there. My hips actually fluctuated a bit. At start they were 36 inches. When I measured during the Bring It! Fit test they'd gone up to 37 inches. After Insanity, they were down to 35 inches, two inches from the recent measurement but an inch from where I started. I am also down an inch on my arm and leg taken at the bicep and thigh respectively.
Overall I'm happy with the results, especially with the fact that I feel better and more in shape. I'm looking forward to seeing what results I'll earn through the next program.
Related Posts: