Last time, I shared the second third of the poses from the YogaGivesBackChallenge, which was a 30-day yoga challenge and charity challenge on Instagram. Today I'll be sharing the final third of the poses. During this yoga challenge, the number of posts determined the donation amount that sponsor @aloyoga and possibly the hosts  @beachyogagirl (Kerri Verna) and @kinoyoga (Kino MacGregor), would make to @yogagivesback, a nonprofit focused on raising awareness and funds to alleviate poverty in India
At the end of the challenge, Kino reported that there were over 91,000, which was enough for Alo Yoga to donate $1000 to Yoga Gives Back. Although it was originally planned that Alo Yoga would donate $2500 for 100,000 posts and the hosts would donate $2500 at 150,000, Kino said "since it was so close and we are so touched by your poses and participation" she and Kerri would match the donation for a total of $2000 which "will fund micro-loans to women entrepreneurs and keep children in school in India".
Pose 21: Baddha Hasta Sirsasana B or Bound Hands Headstand B
According to Kerri, "if you have a solid handstand practice" this pose "isn't as hard as it looks". I'm not to the point of being able to do a headstand yet, and Salamba Sirsasana or Supported Headstand was the pose for that day's JuneOYourChakras (which I'll be telling you about soon), I considered this my attempt for both. I didn't get a full headstand, but did get a little lift.
Pose 22: Mayurasana or Peacock Pose 
Kino said, "This was one of the hardest poses for me to even begin to make sense of in my practice". Even with her instructions that followed this statement, I found it difficult as well. I couldn't balance my whole body weight. I was able to lift one foot, but not both.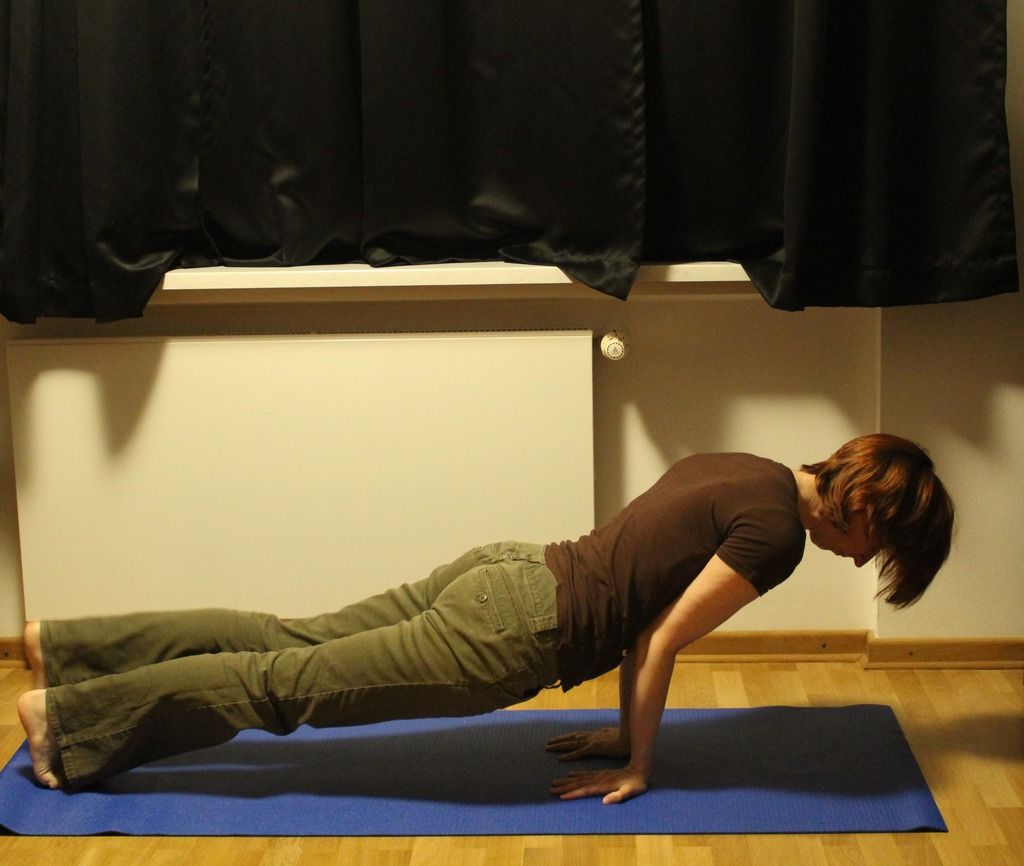 Pose 23: Bharadvajasana or Bharadvaja's Twist
I was able to get this pose pretty easily following Kino's example, although I think it would have been a little easier if I had worn different pants. For those who might wonder, the shirt is a Firefly shirt that says Keep Calm and Stay Shiny.
Pose 24: Kurmasana or Tortoise Pose
Kerri said to feel free to bend the legs for this pose, which I found I had to do. I think my minpin was a little concerned about me being in this position, which I found a little difficult to comfortably get back out of. You can see more of my minpin on @phoenixxphyre and he makes an occasional appearance on Embracing Adventure.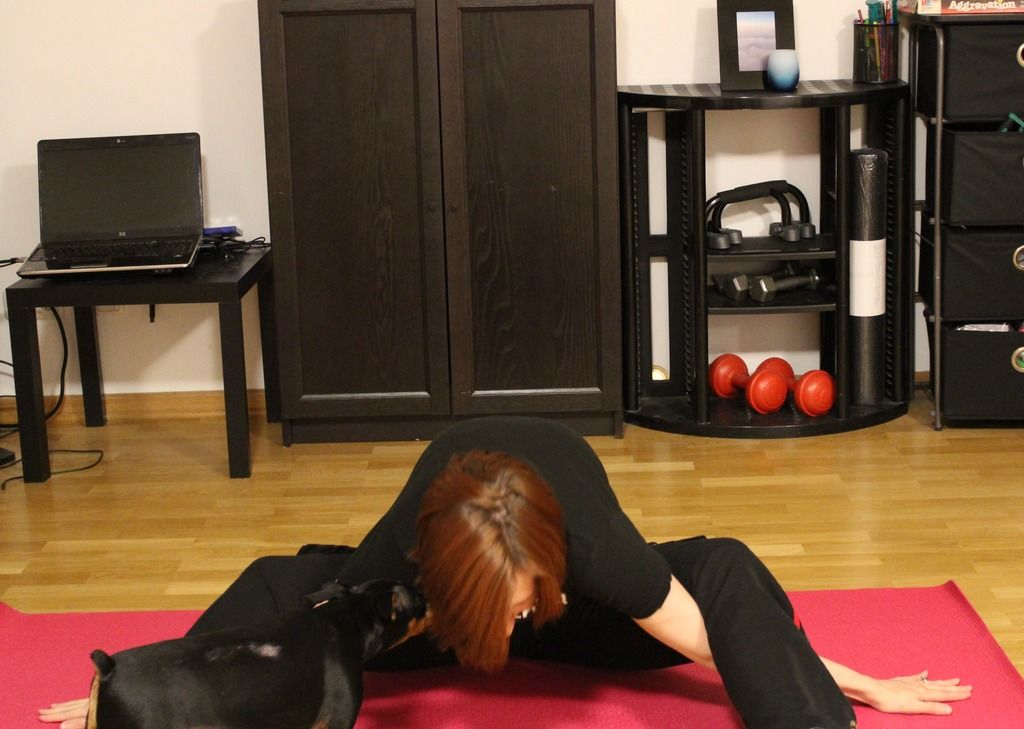 Pose 25: Baddha Hasta Sirsasana D Bound Hand Headstand D
According to Kino, this headstand variation is in the Ashtanga Yoga Second Series. I am still working on being able to do a headstand, so I certainly wouldn't be able to do it with my hands behind my back. So, here's another prep pose for a bound hands headstand. I didn't get a full headstand, but I did get a little lift again.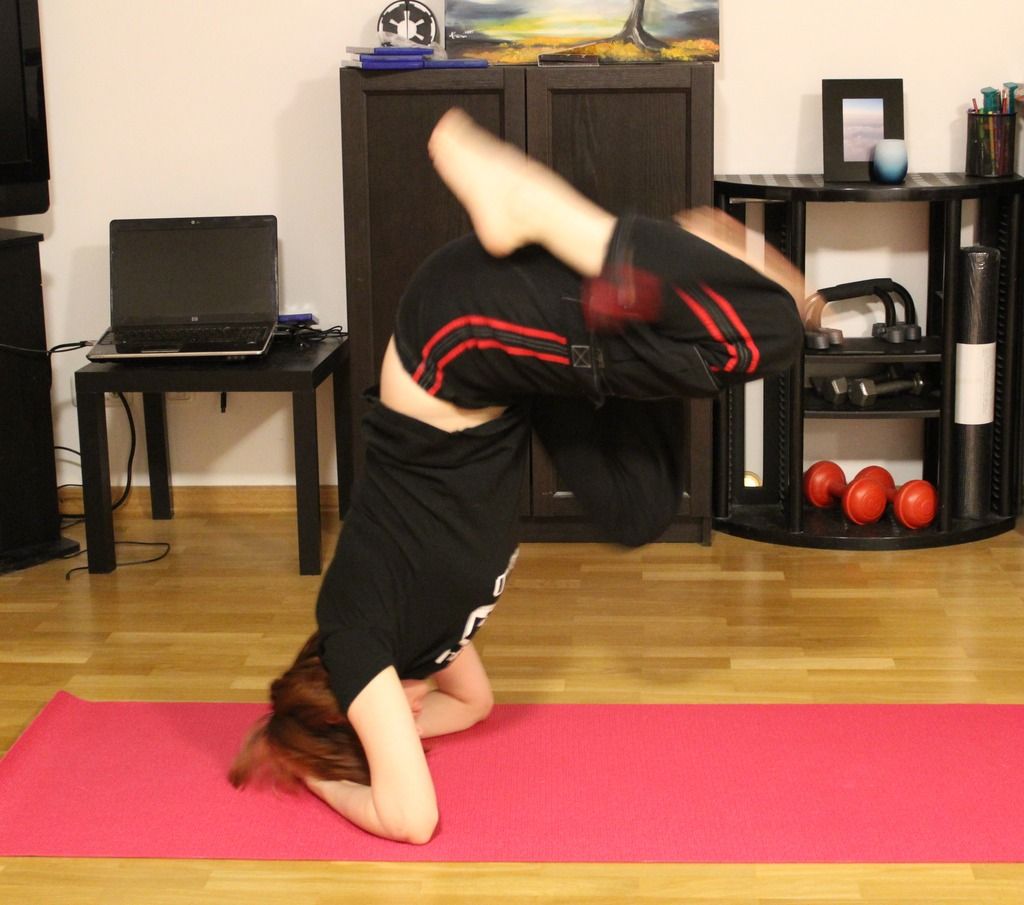 Pose 26: Urdhva Mukha Paschimattanasana or Upward Facing Intense West Stretch
I'm definitely not able to fold my legs up as high as Kino or reach my feet, but I was able to straighten my legs and grab my ankles.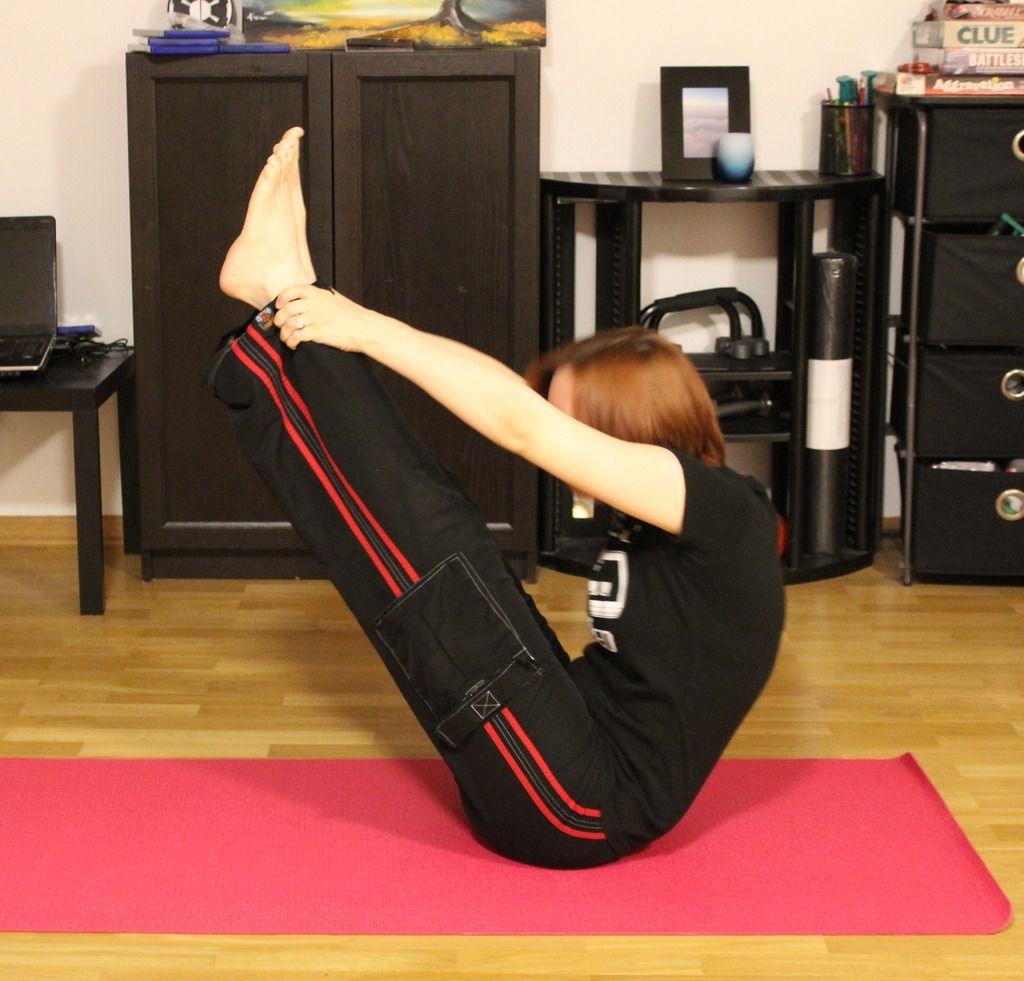 Pose 27: Eka Pada Sirsasana or One Foot Behind Head Pose
Years ago, I was able to get a leg behind my head. Apparently I am nowhere near that flexible anymore, so I did the pose that Kino did right before putting her leg behind her head. I'm not sure if there is a separate name for that or not.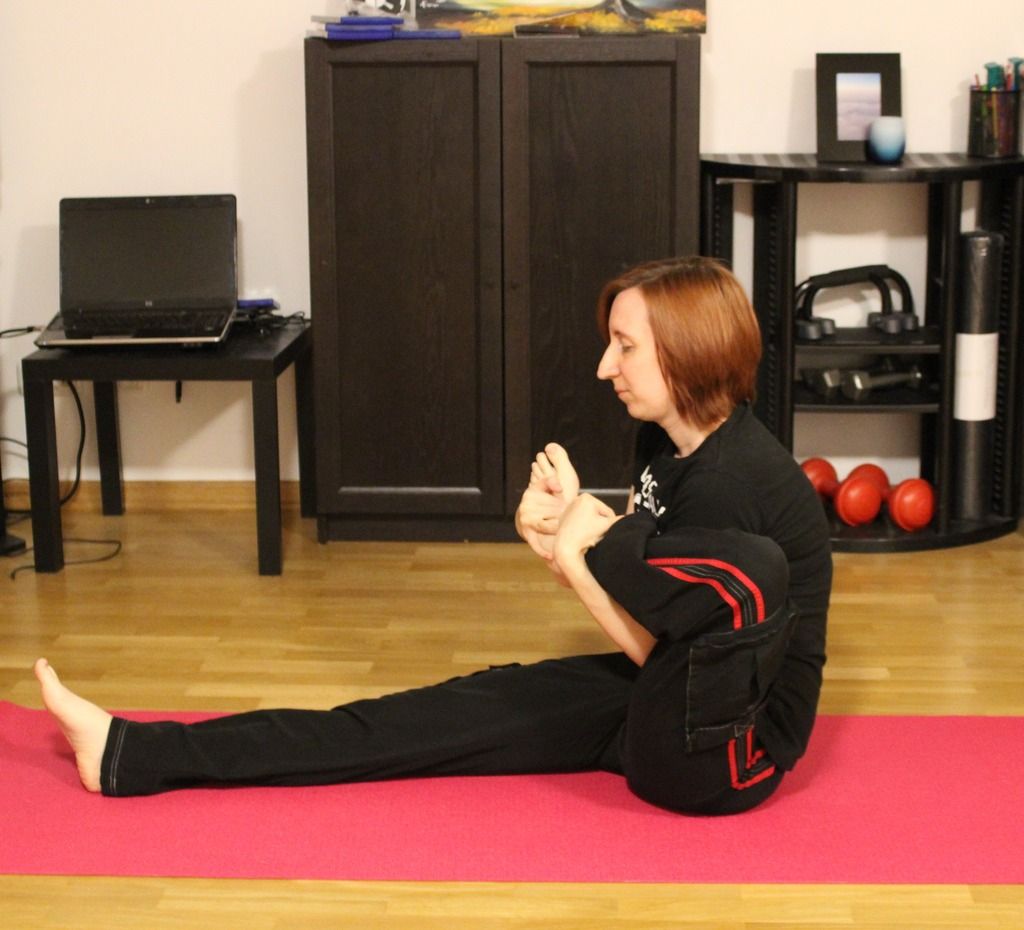 Pose 28: Vrschikasana or Scorpion Handstand
Kino suggested that if unable to do a scorpion headstand to try it from a forearm balance. I can't do a forearm balance either, so I decided to do a prep pose closer to Dolphin Pose, which was suggested in a YouTube video by Ekhart Yoga on how to get into a forearm balance.
Pose 29: Pincha Mayurasana or Feathered Peacock Pose
I'm not able to do regular peacock pose, much less the feathered one, so instead for this pose I kept going with the forearm balance prep with a lifted leg. According to Kino, "It never matters whether or not you do a pose. What matters is the journey that the experience of the practice takes you on."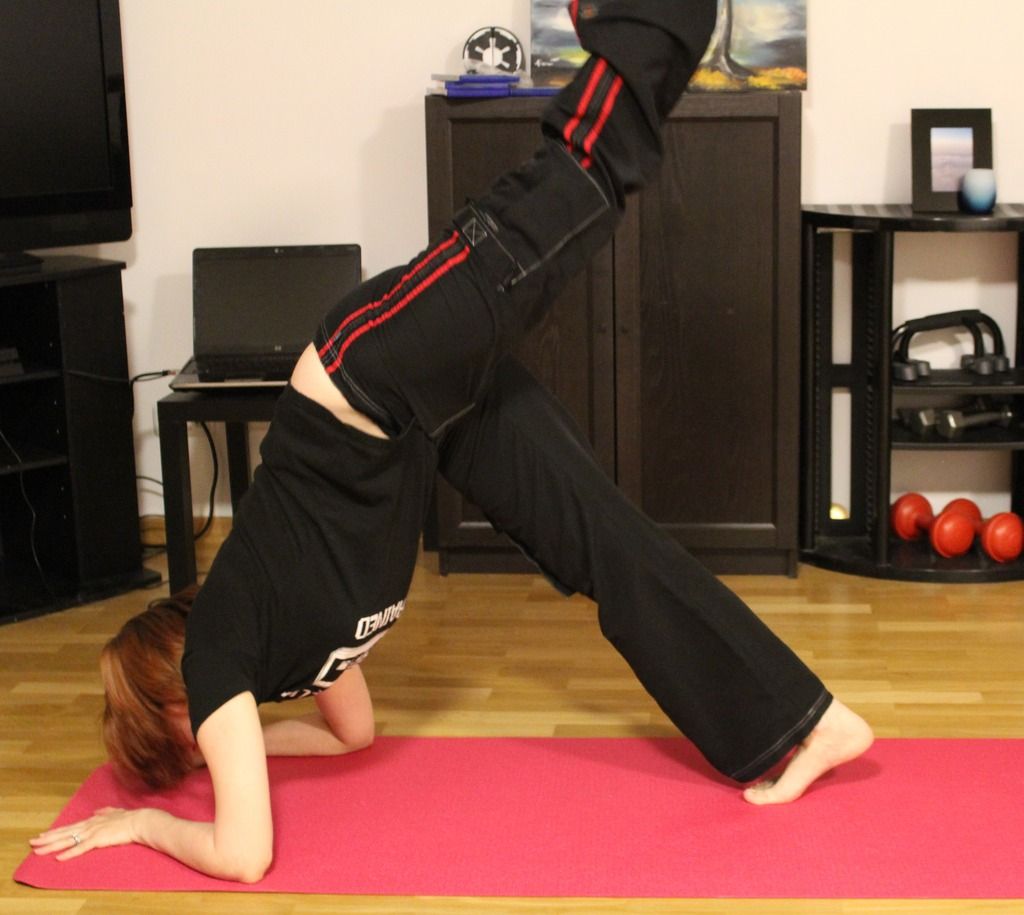 Pose 30: Mukta Hasta Sirsasana C or Free Hands Headstand C
Since I'm unable to do a regular headstand, I was not able to do a free hands one, so I kept going with the forearm balance prep, this time getting the second foot in the air. I'm sure you can tell by the blurriness that it was not for long.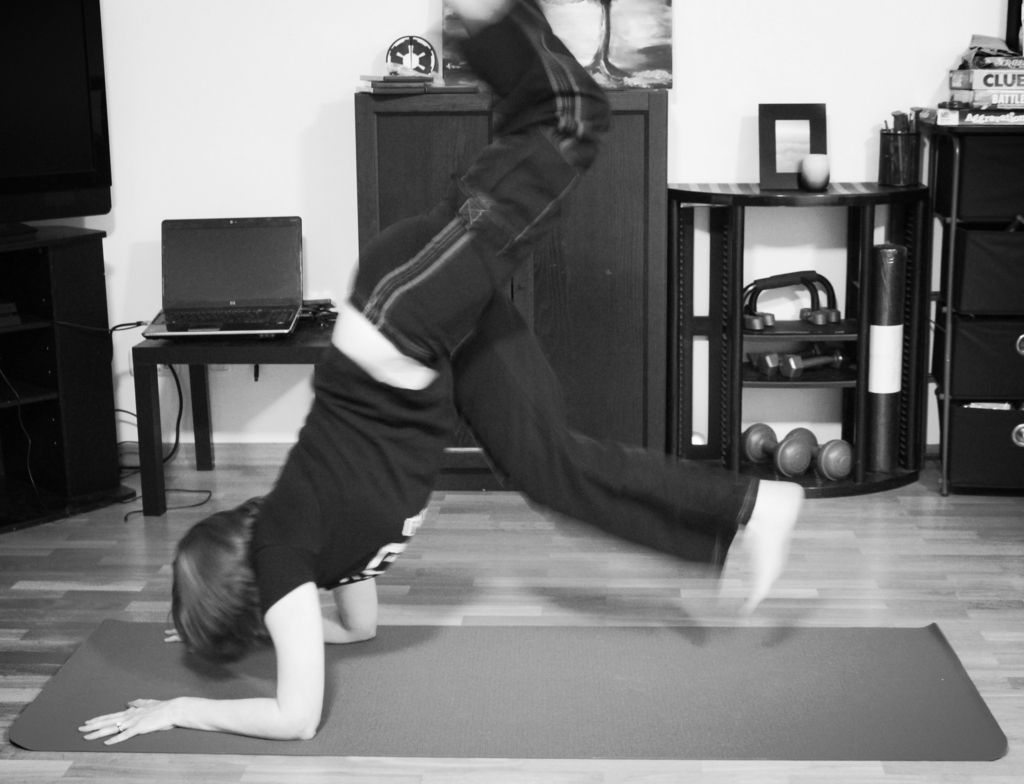 Although I was not able to do the full expressions of any of the final third of the poses, and in some cases could not come anywhere close, I did make the attempt. Kino acknowledged in her final post of the challenge, "this month has presented some challenging asanas that take a lifetime to really practice". There is always time to keep improving, but at least I know what my starting point is. I'm currently participating in the BacktoBackBends Challenge with the same hosts. You can follow my progress with that on @investinginfitness.
Related Posts: